Vacancy CNC machinist (BBL)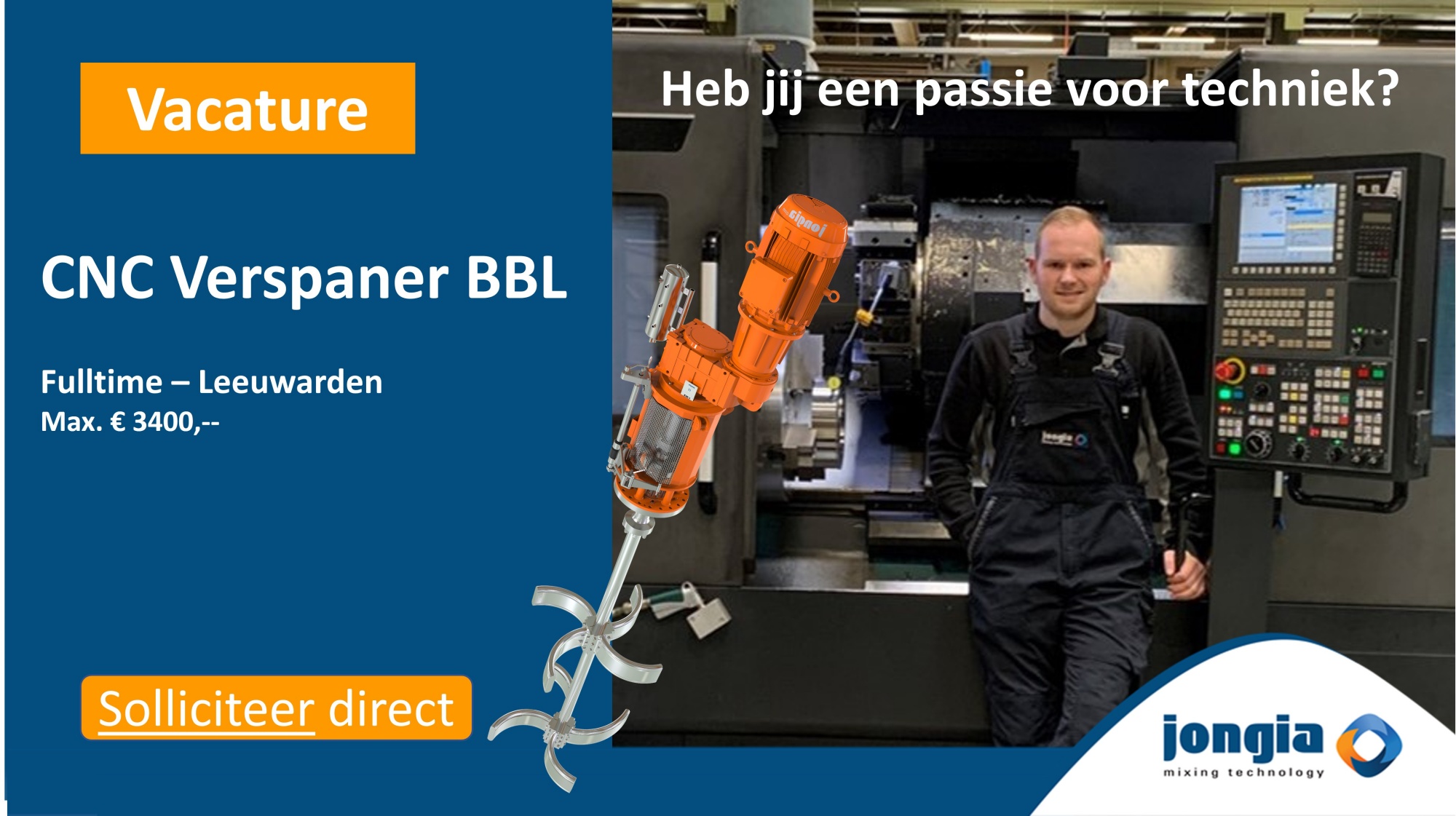 Jongia Mixing Technology (Jongia NV) specializes in manufacturing and selling mixers and agitators based on its own reliable designs. The company has a leading position in the Netherlands and exports its products worldwide. Jongia's customer-specific products are distinguished by efficiency, reliability and quality.
Jongia's products are applied within various market segments such as fine chemicals, petrochemicals, environmental and food processing industries. With its 85 years of experience, Jongia is known as a leading and innovative supplier. In 2022, we were finalists as a company in the Frisian Enterprise of the Year election. In addition, we as a company are making an impact with our mixers in the world's current transition issues.
Jongia Mixing Technology (Jongia NV) in Leeuwarden is looking for a
CNC Machinist (BBL)
Full-time – Leeuwarden
What will you do as a CNC Machinist
As a (BBL) CNC machinist at Jongia Mixing Technology, together with your colleagues in the Machining Department, you will be responsible for machining (turning/milling/drilling) the parts of our mixers and agitators. If necessary, you may also take a BBL training course in which you take both practical and theory classes to further develop your skills and knowledge.
Your duties include:
Reading technical drawings to program parts to correct specifications;
Setting up, fixturing and operating various CNC machines for milling, turning and drilling various materials;
Conversion and regular maintenance and calibration of machines for efficient production processes;
Accurately checking and measuring the quality of manufactured parts;
Contributing to the optimization of production processes with possible improvement suggestions.
What does Jongia have to offer you?
You will have a responsible and largely independent role in an ambitious company where you have real influence and can make a difference. With us, no day is the same and the atmosphere is cozy, informal but definitely driven! You will be part of an innovative company that delivers its products worldwide from Leeuwarden. You will have the space to develop yourself further with us.
We further offer:
A market-based salary between €2,500 and €3,400;
Cozy events;
Good pension plan;
Environment where entrepreneurship is valued;
A learning environment, possibly a mentoring program to successfully complete your CNC training;
Candidate Profile (M/F):
You are a driven and accurate person with a passion for engineering;
You have a Machining Education Level 3 – 4, or have acquired this knowledge through experience;
You can program independently (Fanuc – Fagor – Siemens is an advantage);
You have several years of experience as an independent CNC turner and miller;
You are familiar with reading technical drawings;
You can convert CNC machines;
Do you possess some or all of the above points but have become interested in this position? We would be happy to meet with you to discuss opportunities for a BBL Pathway.
Apply or learn more?
Have we got you excited? Does our organization and this position appeal to you, don't wait to respond and submit your application quickly.
For more information, visit the Working at Jongia page.
But of course you can also contact us directly at: info@jongia.com or send a message to Erik Bergsma (Production Manager) bergsma@jongia.com, tel. 058-2139715.
Acquisition in response to this vacancy is not appreciated!
Keywords: Vacancy Machinist Leeuwarden, Turning, Milling, CNC, Mechanical Engineering, WTB, Food, Chemistry, Leeuwarden, Friesland