Medium Duty Top Entry Agitators
Medium Duty top entry agitators and mixers are suitable for applications like yeast fermentation, starch storage, storage and blending of concentrated fruit juices, bitumen and paint production.
Medium duty top entry agitators and mixers have the following characteristics:
Mixing applications where a higher degree of agitation is required
Larger tank volumes where a bottom bearing is not desirable
Viscosities up to approx. 5000 cP
Pressurized tanks (max. 16 bar g)
Temperature -20 to 170 °C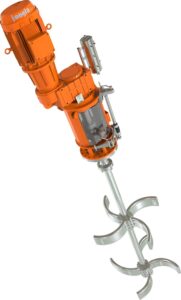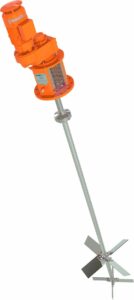 | Medium Duty Top Entry | |
| --- | --- |
| Motor power | 15 kW - 55 kW |
| Materials | Stainless Steel 304, 316 L, Carbon Steel, Duplex (Super), Hastelloy C4 or C2000, Titanium Grade 2 or 7 |
| Coatings | C3, C4, C5 of C5M |
| Surface wetted parts | Ground until Ra < 0,4 µm, handpolished till <0,2 μm or electropolished, rubber lined, PTFE or HALAR |
| Explosion proof (ATEX) | Ex zone 0, 1 or 2 for gas, 21 or 22 for dust or Non-Ex version |
| Accessories | Swing out device, lifting device, gear drives (all brands), V-belt or gear driven, all kinds of sealing systems, sterile versions, mobile or stationary versions, adapted flanges to vessel |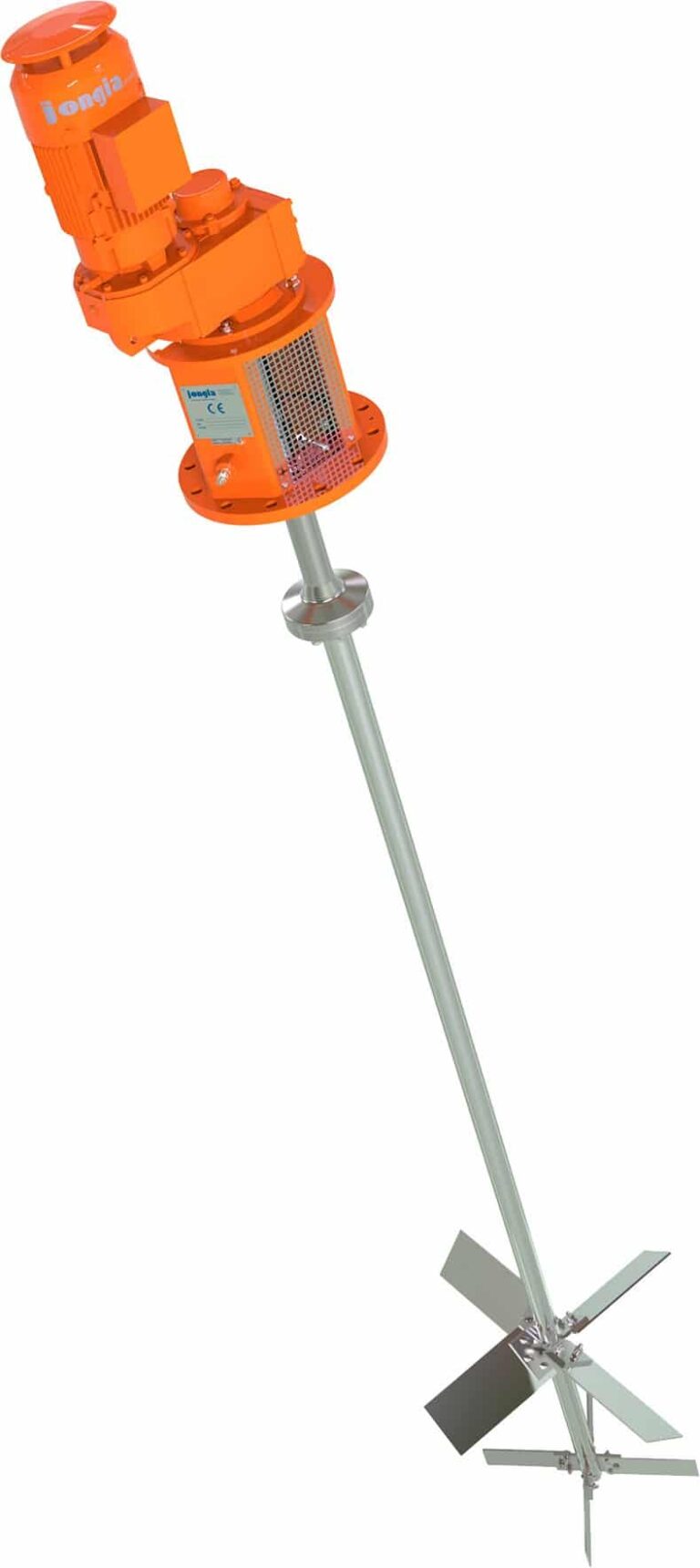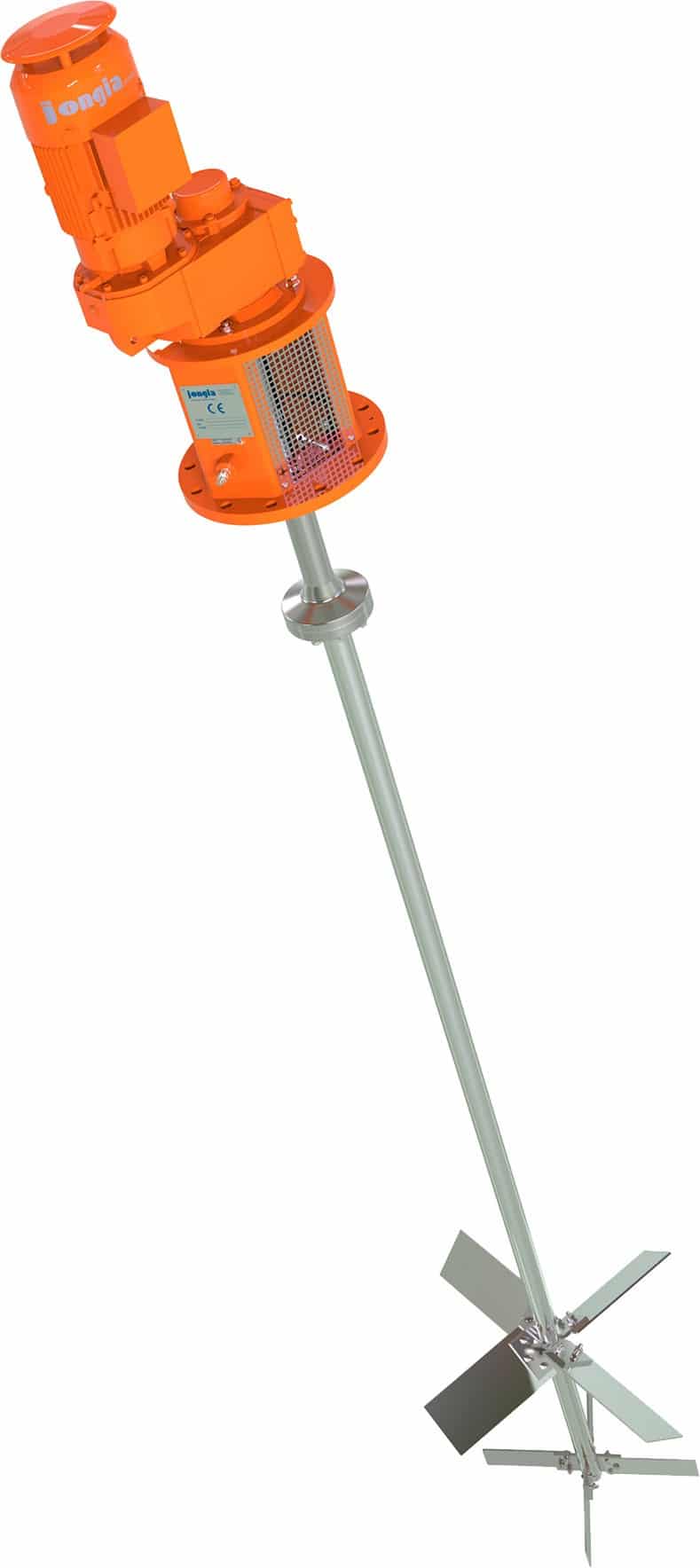 Jongia mixer type LB is especially designed for versatile industrial applications in large tanks with long mixer shafts without bottom bearing special used in sanitary or pharmaceutical applications. The shaft is mounted in the hollow drive shaft of the transmission. Because there is no bottom bearing there is a mixer housing below transmission with an over-sized double self aligning bearing section. Radial loads on the drive are largely absorbed this way and good running characteristics and excellent durability of the mixer are thus ensured. The standard type is executed with a radial lip seal as shaft sealing. If the radial lip seal must be free of the bearing section or another kind of shaft sealing is required than this mixer will be executed with an extra mixer housing.
Applications Medium Duty Top Entry Agitator – LB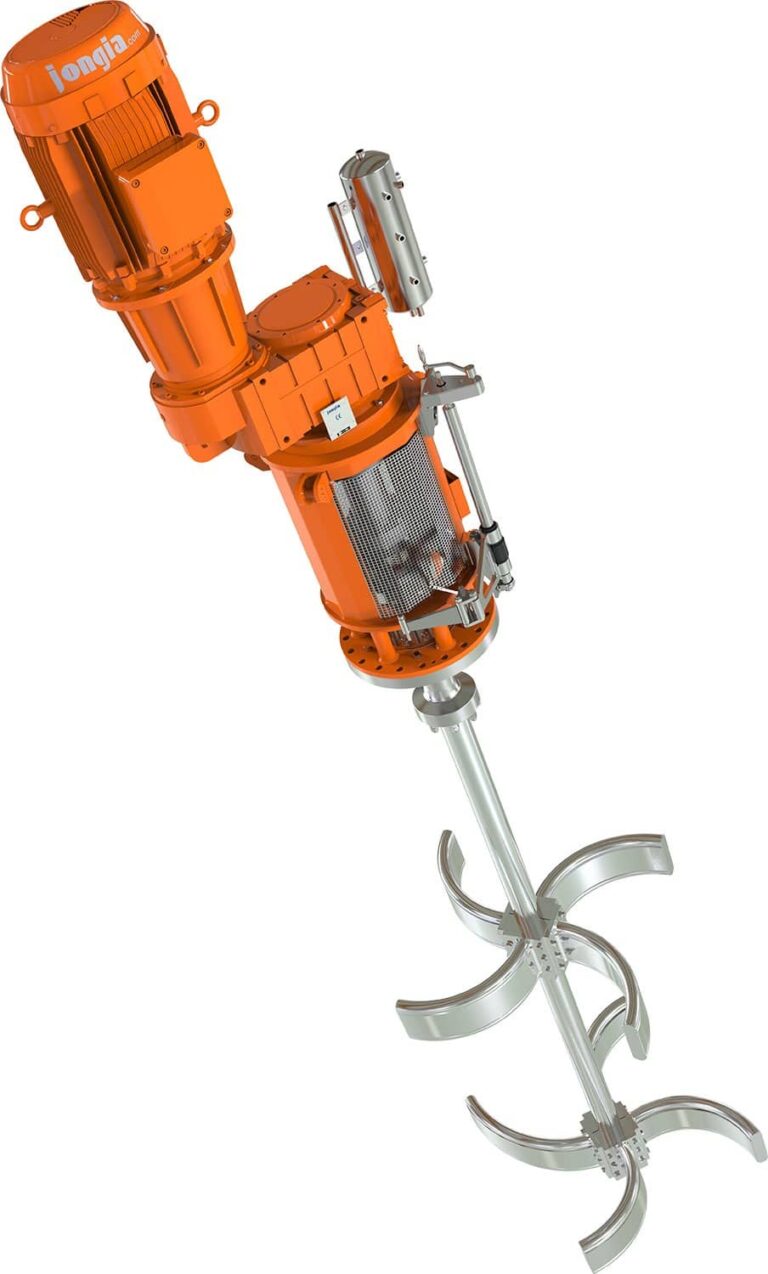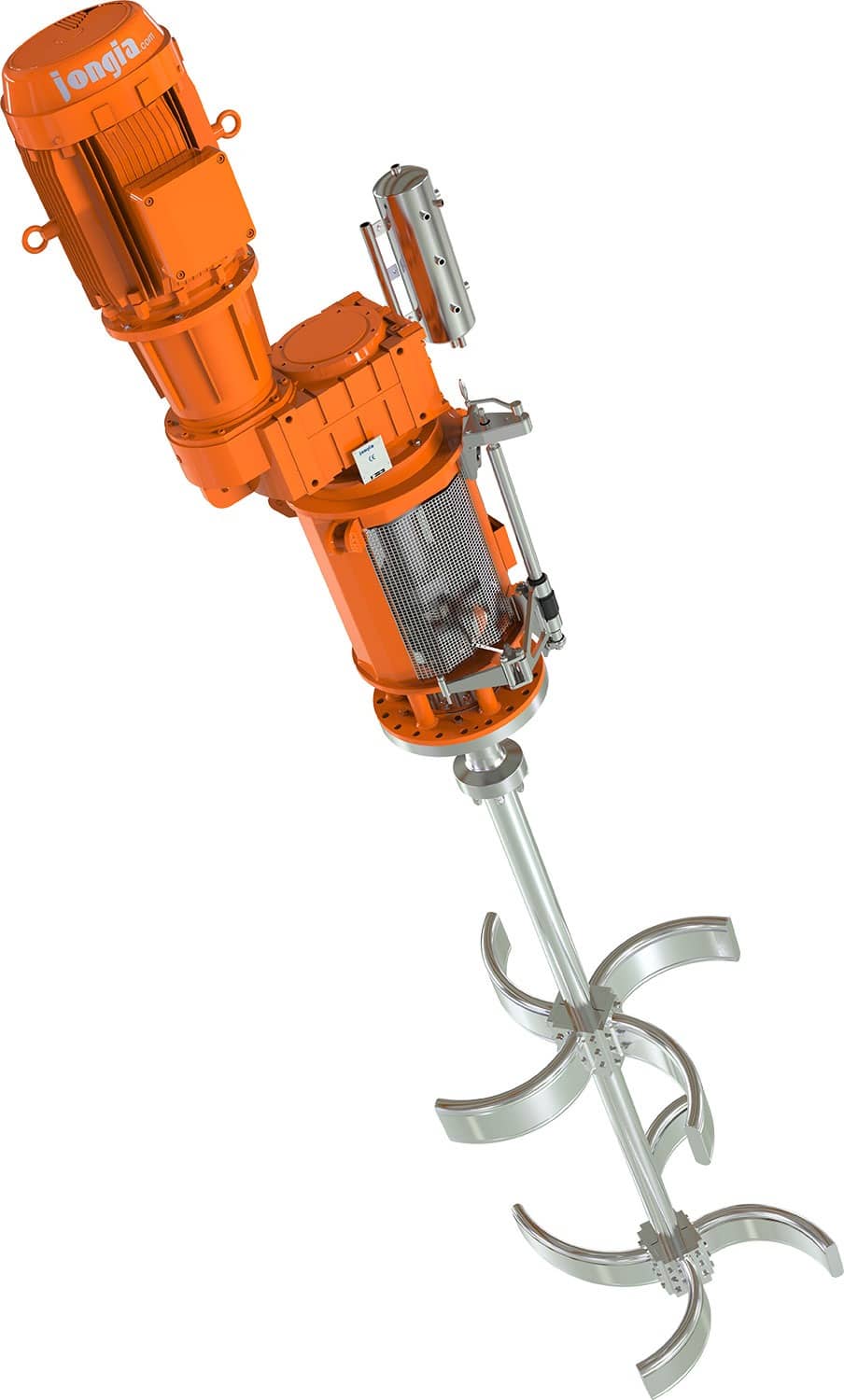 The Jongia type NM industrial mixer is particularly suitable for moderately heavy to heavy applications. Examples like high temperature/pressure reactors, used in chemical and biological industries. This type of mixer has a gearbox with an outgoing shaft connected to the mixer shaft by means of a rigid coupling. The coupling is fitted in a torsion-free mixer housing. This hexagonal mixer housing makes mechanical seal and bearings easily accessible for inspection and maintenance. An optional spacer coupling in the mixer housing allows fast and simple seal replacement without removing drive or mixer shaft. Its modular construction allows easy mounting of all kinds of shaft seals. The selected mechanical seals have an integrated bearing section. Radial loads on the drive are well absorbed ensuring good running characteristics and excellent durability. The type N mixer's design is also very suitable for longer shaft lengths without the need for a bottom bearing. A bottom bearing can be used if necessary.
Applications Medium Duty Top Entry Agitator – NM
Contact our specialized team for all your questions
Top Entry Agitator Articles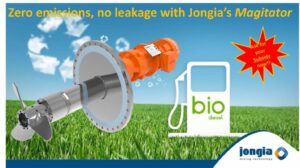 Fuel blending is a critical component of biodiesel production. A properly blended fuel can increase energy efficiency, reduce emissions and improve performance. However, it can be difficult to achieve consistent fuel quality during blending due to differences in storage tanks,
Read More »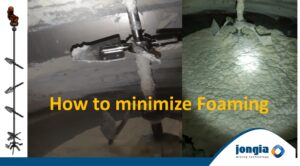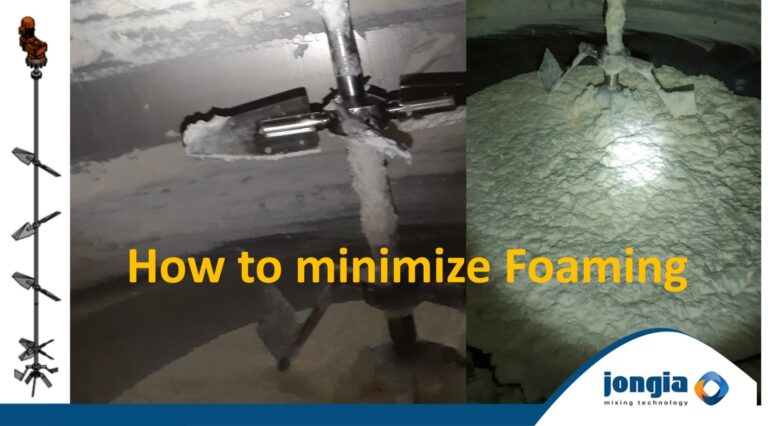 Through years of experience, Jongia Mixing Technology knows the correct application to many mixing processes. So too with mixing processes where the elimination of foaming – which can occur through the behaviour of the recipe – is of great importance.
Read More »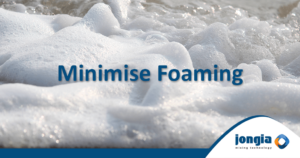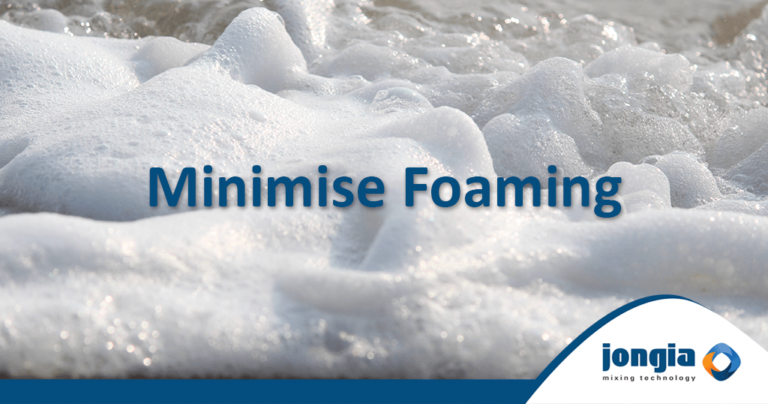 Jongia Mixing Technology has initiated many mixing processes worldwide with its agitators. In some of these mixing processes, the elimination of foam that can arise from the behavior of the recipe is essential as well. Because when foaming can be
Read More »