Counter Rotating Mixing Element
Jongia Counter Rotating Mixer type CRM Technical Description
Jongia's counter-rotating agitator type CRM is a type of mixing device used in various applications.
The function of this type of mixer is to blend, homogenize, or emulsify liquids or powders.
The unique and most important aspect of a counter-rotating agitator is that it consists of two or more stirring elements that rotate in opposite directions. It's essentially two agitators in one device.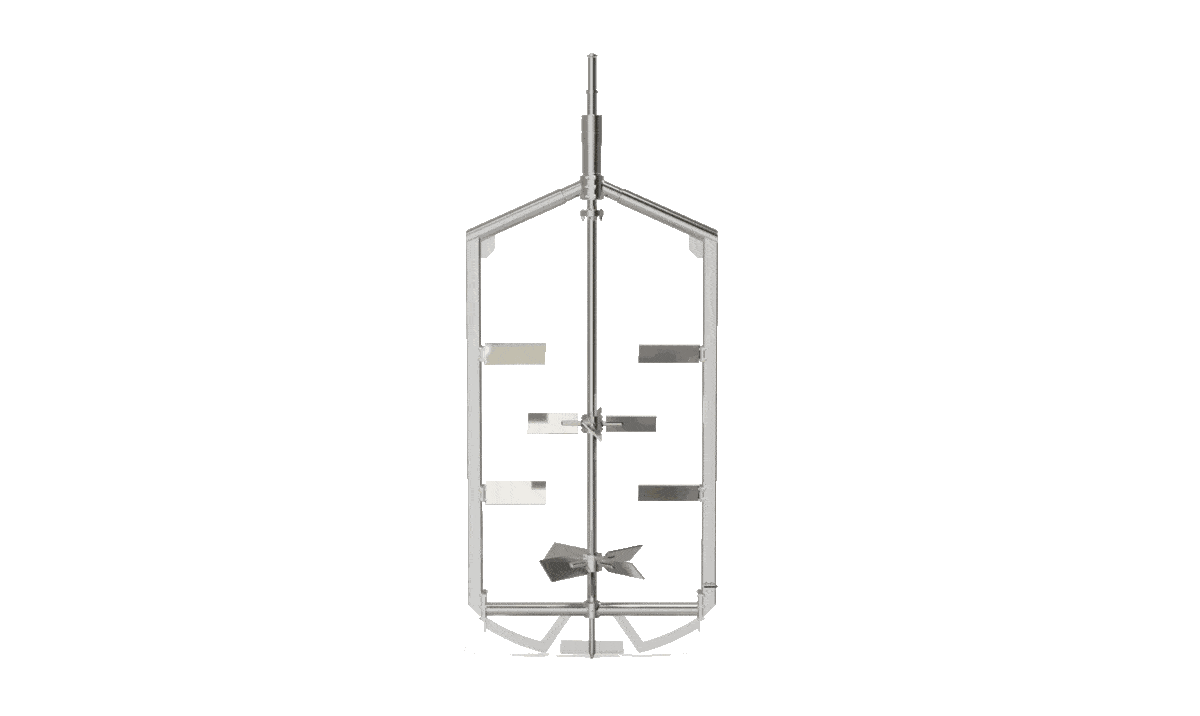 Here are some key features and benefits of a Counter Rotating Mixer:
Efficient Mixing: Due to the opposite rotation directions of the stirring elements, a highly effective and intensive mixing action occurs. This helps reduce "dead zones" in the mixing vessel and ensures thorough blending of the contents.
Homogenization: Counter-rotating agitators can be used to homogenize materials with different viscosities or densities. This is useful in producing products like creams, emulsions, binders, or paints where it's important to evenly distribute all ingredients.
Dispersion: In some applications, the counter-rotating agitator is used to disperse or disintegrate particles in a liquid. This is beneficial in situations where agglomerates need to be broken down or particles need to be separated.
Foam Control: In certain industries such as the food and beverage industry, a counter-rotating agitator can be used to minimize foam formation during the mixing process, which is crucial for maintaining product quality.
Temperature Control: The intense mixing action of counter-rotating agitators can help maintain a consistent temperature in the mixing vessel, which is important in processes with temperature-sensitive reactions.
Material Displacement: These agitators can also be used to move materials from the bottom of a vessel to the surface, which is useful for material discharge or preventing settling.
Overall, counter-rotating agitators provide an advanced and efficient way to perform various mixing and processing processes, depending on the specific needs of the industry. They are often used in sectors such as the chemical industry, pharmaceuticals, food production, and more.
Jongia Counter Rotating Mixer type CRM Technical Description
The two stirring elements are arranged in a stacked configuration. This means that the upper stirring shaft is guided through the hollow drive shaft of the lower drive unit. Both shafts have their own drives and are stacked on top of each other. Depending on the application, such as whether it involves a pressure-holding tank or pressure vessel, the shaft seal will also play a crucial role in the application as well as in the construction.
A counter-rotating mixer is primarily used when this configuration offers advantages that two separate mixers in one tank cannot achieve.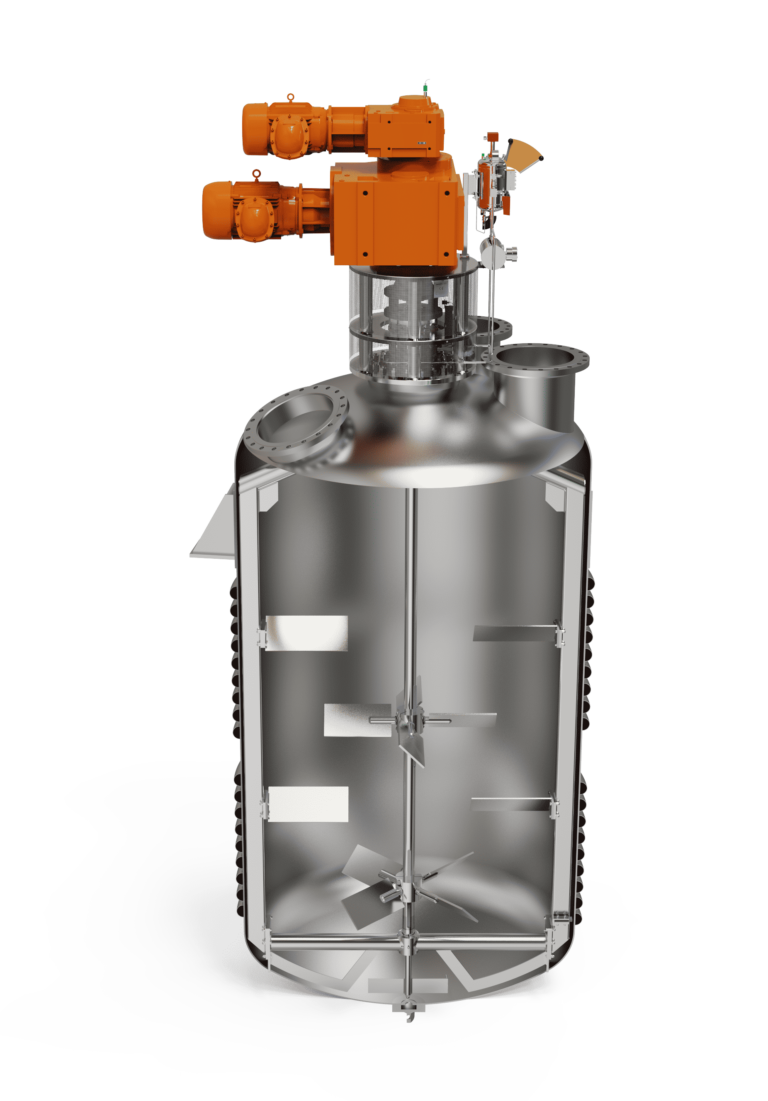 This image is an example of such a mixer designed for adhesive production.
Clearly visible is the stacked configuration of the mixing system as well as the different stirring shafts operating in opposite directions.
Some technical aspects that we can point out:
Dual drives
Dual shaft sealing via mechanical seals
Scraping action of the anchor stirring element
Pumping action of the axial mixing elements on the anchor
Pumping action and axial flow through the axial turbines on the central stirring shaft
Heating or cooling function on the vessel wall
Polished construction for hygiene purposes or contamination prevention
Both stirring drive systems operate independently and can be adjusted independently. Maintenance and repair can also be carried out independently.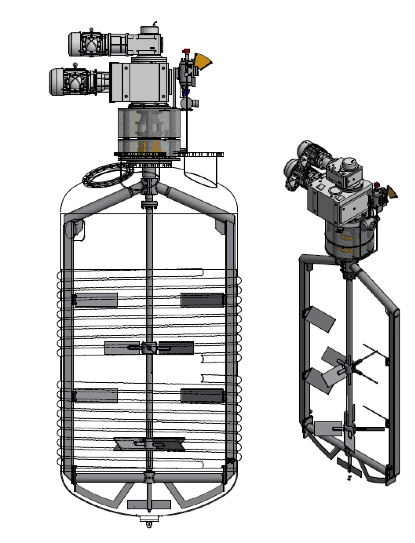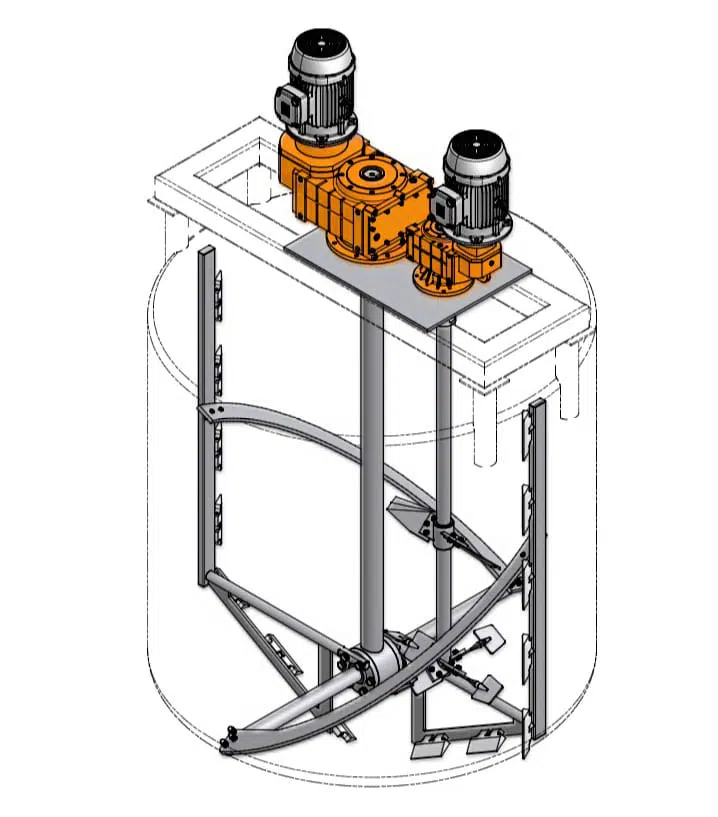 To create a lump-free, homogeneous and stable product in the premix phase JONGIA offers its dual mixing system consisting of an anchor type mixer combined with a fast running dissolver for mixing in additives. The anchor mixer keeps the mixture homogeneous and is fed by the fast running mixer. JONGIA's anchor mixer can be fitted with wall-contoured scrapers to ensure the best possible axial pumping action for products with a high solids content such as mural paints. When a more gentle product treatment is required, we recommend a parabolic anchor. A single or double 4-bladed axial- flow/multi counter-flow element of our own special design creates the necessary shear forces to mix liquids with low viscosities into high-viscosity products of up to 20.000 cP. The combi-system ensures perfect homogeneity.
Jongia Mixing Technology has designed and built many counter-rotating mixers for various applications.
For your specific mixing application, we are always happy to assist you.
Contact our specialized team for all your questions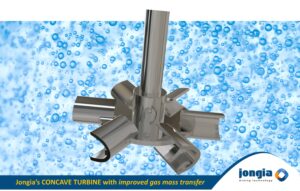 Concave turbines are often called "the next generation" turbines as they significantly perform better compared to conventional "Rushton" turbines. However, in most all engineering books and studies, the one and only turbine in which is referred to, is the Rushton
Read More »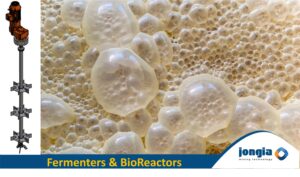 Bioreactors and Fermenters are culture systems to produce cells or organisms. They are used in various applications, including basic research and development, and the manufacturing of biopharmaceuticals, food and food additives, chemicals, and other products. A broad range of cell types and organisms can be cultivated in bioreactors and Fermenters, including cells (like mammalian cell lines, insect cells, and stem cells), microorganisms (like bacteria, yeasts, and fungi), as well as plant cells and algae. The words "Bioreactor" and "Fermenter" are basically the same thing.
Read More »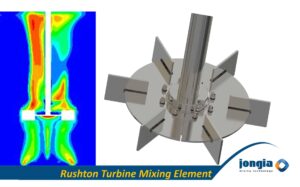 The Rushton disc turbine or Rushton turbine is a radial flow impeller used for many mixing applications and particularly for Gas Dispersion and Fermentation applications in process engineering and was invented by John Henry Rushton.[1] The design of the Rushton
Read More »