A 10! This concluded for a number of students their lightning fast internship at @Jongia Mixing Technology, in collaboration with @JINC. Pupils regularly visit the Jongia Technology Centre to learn about mixing and stirring and Jongia in particular. The goal: To discover which work suits their talents.
During the visit at Jongia Mixing Technology, under the guidance of @Thonnis de Jonge, they got to work making chocolate milk. The trick is to mix the three ingredients chocolate powder, sugar and milk in the right way and with the right proportions, in order to get the perfect delicious chocolate milk. The correct method will result in a nice homogeneous chocolate milk, but the wrong method will always result in lumps. So that's the trick!
Jongia Mixing Technology considers it extremely important to inform the new generation about the possibilities of working in (process) technology and to show them how much fun it is. After all, the new generation is the future. Feedback from the students: "We learned a lot, found it very interesting and it was great fun!" The students themselves also did well, as they were able to complete their lightning apprenticeship with an average of 8.7 and there were even a few A's!
Would you also like to visit Jongia Mixing Technology? Please contact us via info@jongia.com.
Challenge us to improve your process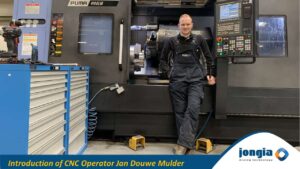 We are proud to introduce our professionals to you. This time, the honors go to Jan Douwe Mulder, 21 year. Even though he is young of age, he has been working at Jongia Mixing Technology for almost 5 years. Nowadays he works for Jongia as a CNC operator. We gladly would like to introduce Jan Douwe to you!
Read More »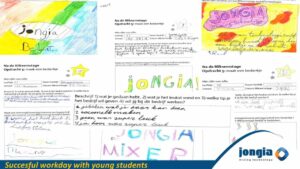 Upcoming talent are always welcomed at Jongia Mixing Technology , so also the students of IKC Trianova were welcomed, because they are the future! When these enthusiastic students arrived, we already thought: "This is going to be a day full
Read More »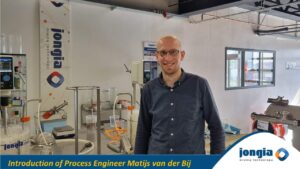 We are proud to introduce our professionals to you.  This time, the honors go to Matijs van der Bij, 32 years old. He has been employed since November 2022 at Jongia Mixing Technology a Process Engineer. This makes it even more
Read More »