Jongia Mixing Technology holds a good many professionals to its name. Every four weeks, we will introduce one of those professionals to you. This week, we'd like to introduce the 65-year-old Amsterdam-born Frank van den Hoed. Frank has been working as a Service Aftersales employee for a respectable 29 years at Jongia Mixing Technology and still does it with gusto.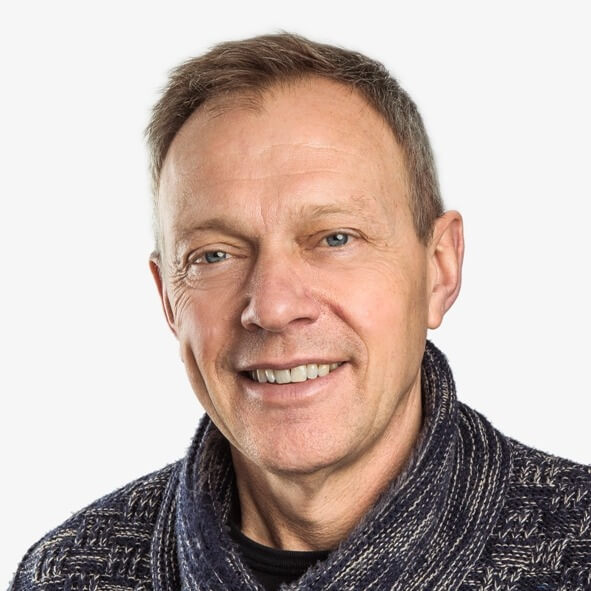 Hooked to agitators
Frank started his career as Operations Manager in Zutphen, with Terlet BV, a company specialized in designing and producing high quality components and 'turnkey'-systems for the preparation and packaging of liquid products in the food, chemical, and pharmaceutical industries. "At some point the people of Terlet asked me if I would like to work at sister company Jongia. My first thought was: all the way over in Leeuwarden? But the moment I got there and saw the product, I was hooked", says Frank.
"As Operations Manager at Terlet, I was mostly concerned with planning, oversight, and task division. As Service Aftersales employee, I can be deployed much more broadly. Among other tasks, I set up business offers, handle complaints, send out mechanics and advice customers. But I also enjoy training the younger generation within Jongia. Because all the knowledge I gained here is stored in my head, but it needs to be passed on". The theme of safety is high on his priority list. He is very clear in this: "everything you do, has to be done in a safe way. As such, everybody is required to have their VCA-papers in order and be able to work safely. If we feel something is not safe, we will not do it".
Helpful and dedicated
Frank is always ready to lend anyone a helping hand. Besides his educational background (HTS Mechanical Engineering), his personality is also what makes him a perfect fit for his position. The love he has for his job, where he gets to use all kinds of wonderful materials (with stainless steel being his favorite), and for his advisory role towards both customers and colleagues mean he has no problem at all being reachable 24 hours a day in case of any breakdowns. Although visits to our customers abroad are no holiday trips, Frank says: "these customer visits are the cherries on top for me. If a customer has any issues or wants to discuss something, I will be there to offer advice, and to explain and tell them how they should handle it. The customer needs you at that moment and the greatest thing is coming to a solution together".
Jongia Mixing Technology is a great employer
Frank lauds the work environment at Jongia Mixing Technology: "We are all colleagues, no matter what department you work for. Anyone can speak to anyone with ease here. But with customers as well. When they know you and approach you personably with 'hey Frank', it gives me a warm feeling working with them. Jongia itself is a great employer too. We have a lot of freedom and are always given the opportunity to give our own input or just get things off our chest. The ideal employer does not exist, but I am very pleased here. My father used to say: if you're good to your boss, your boss can be good to you. I've always strived for this". Frank places importance in continued personal development: "Jongia has developed greatly throughout the years, digitally as well. I have always seen the potential of this company, but now we are actually implementing it, too. We are also given the opportunity for personal development at all times. This happens through courses and training sessions".
The future and spare time
Frank is positive about the future of his private life: "I am in the process of buying a new home in Burum, a real fixer-upper. I am looking forward to start working on that". Upon us asking what he likes spending his spare time on, he can barely contain himself: "I used to sing in a pop choir, with a performance for Edwin Evers at Radio 538 as greatest highlight! But I have now passed that gig on to the younger generation. I love taking my racing bike to work several times a week. Do I have a lot on my mind? Then this helps me clear my head and find some peace. Although I love bike racing, I don't participate in competitions. I have participated in eleven triathlons in Almere, in the past. That was just amazing! De last one crossing the finish line was cheered more enthusiastically than the first to finish". He actually enjoys all types of sports, apart from fighting sports. "I have climbed the Alpe d'huez twice on a kick-scooter for a charity event for brain tumor research. The first time was for the charity event itself. I immediately went up a second time just to descend at 70 km/h. Exhilarating!". He is a real family man, has three daughters and a son, and loves travelling the globe. Frank is not planning on staying put upon his retirement. His dream is to cross the globe, helping people. As a mechanic, but as a human as well. You can get Frank out of bed for anything, and he will be 'on' right away. But what would tempt him out of bed more than anything? "Stewed eel, the way my mother used to make them".
Want to know more about Jongia Mixing Technology and want to get to know Frank van den Hoed and/or his colleagues? Please contact us at +31 (0) 58 21 39 715 or info@jongia.com.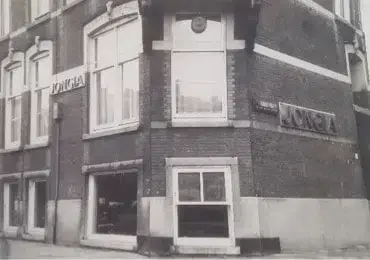 Our History
From the moment Jongia was founded in 1937 we have been evolving structurally over the years. Learn more about our company's history with the summary of most important moments highlighted in a timeline.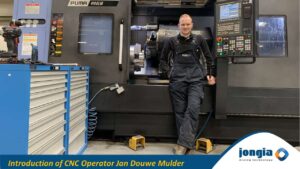 We are proud to introduce our professionals to you. This time, the honors go to Jan Douwe Mulder, 21 year. Even though he is young of age, he has been working at Jongia Mixing Technology for almost 5 years. Nowadays he works for Jongia as a CNC operator. We gladly would like to introduce Jan Douwe to you!
Read More »
Challenge us to improve your process