Joyce, a young and ambitious member of the Jongia Mixing Technology team, started her journey with the company at the age of 22. She initially joined as an intern in March and, after successfully completing her studies, she officially became part of the team in September.
Her academic background in applied mathematics might seem distinct from the world of mixing technology, but as she explains, it's all about the power of mathematics, statistics, programming, and data science.
Joyce's Passions Beyond the Office
Beyond her role at Jongia, Joyce is a dedicated runner and a passionate reader. She has a remarkable goal of running a marathon, currently focusing on training for shorter distances like 10k and 15k runs. When she's not running, you'll find her immersed in the world of fiction and thrillers. She enjoys books which are beyond reality.
Joyce highly values the company's social aspect and the collective activities they engage in. She particularly enjoys teambuilding events like escape room and catering, which offer a chance to strengthen bonds with her colleagues in a relaxed setting. Joyce appreciates the informality and causality she shares with her colleagues and managers. Joyce believes that this atmosphere enhances her daily work experience.
A Unique mix of Learning and Growth
Joyce's time at Jongia has been characterized by a commitment to learning, development, and teamwork. She appreciates the company's close-knit culture, where it's easy to reach out to colleagues, and everyone is ready to help. Coming from a mathematical background to a world where processes and mechanics are at the core, Joyce has faced challenges. However, she views it as an opportunity for growth and professional development. She's particularly interested in the field of sensor technology, recognizing it as a key component of the future. Jongia not only values Joyce's growth but actively supports her development by offering opportunities to learn and explore her interests.
Currently, Joyce is actively engaged in multiple projects, with a significant level of responsibility in some of them. Her role involves testing, data collection, analysis, and in-depth discussions about the results. While these projects are sufficient for her as she continues to learn and develop her skills, she looks forward to being involved in even more projects in the future.
Joyce's story at Jongia Mixing Technology is a testament to the company's commitment to nurturing talent and providing a dynamic environment for personal and professional development. With a strong foundation in mathematics, a love for data analysis, and a passion for sensor technology, Joyce represents the future of a company that values innovation, teamwork, and personal growth.
Are you interested in more Jongia stories? Please have a look at the Jongia Team page.
If you are interested in a job at Jongia Mixing Technology, click here "Working at Jongia" to view our job openings. ?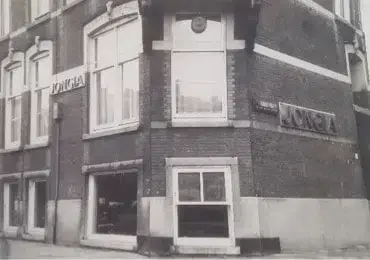 Our History
From the moment Jongia was founded in 1937 we have been evolving structurally over the years. Learn more about our company's history with the summary of most important moments highlighted in a timeline.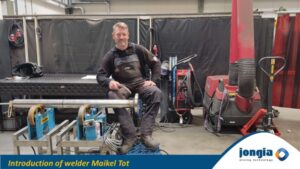 This week, we would like to showcase Maikel Tot, 57 years old. Maikel has been working at Jongia Mixing Technology as a welder since 2015. We would like to share his story with you.
Read More »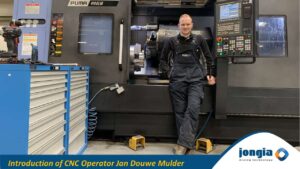 We are proud to introduce our professionals to you. This time, the honors go to Jan Douwe Mulder, 21 year. Even though he is young of age, he has been working at Jongia Mixing Technology for almost 5 years. Nowadays he works for Jongia as a CNC operator. We gladly would like to introduce Jan Douwe to you!
Read More »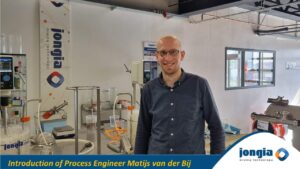 We are proud to introduce our professionals to you.  This time, the honors go to Matijs van der Bij, 32 years old. He has been employed since November 2022 at Jongia Mixing Technology a Process Engineer. This makes it even more
Read More »
Challenge us to improve your process