Upcoming talent are always welcomed at Jongia Mixing Technology , so also the students of IKC Trianova were welcomed, because they are the future! When these enthusiastic students arrived, we already thought: "This is going to be a day full of passion and pleasure." 
At Jongia Mixing Technology we really enjoy to introduce students with mixing and stirring and we like to let the students discover which kind of work matches with their talents.
On behalf of Jongia Mixing Technology we can speak of a very pleasant day in which an enthusiastic group of students from IKC Trianova got a better idea of what our work entails. We gave the students a guided tour and they were also allowed to do practical work at our company.
During the internship, Thonnis de Jonge from Jongia Mixing Technology helped the students to make a delicious chocolate milk. While you can normally drink a chocolate milk at school or at home on your couch, there is of course a process before you can make it. The students got to experience this in practice under the instruction by Thonnis de Jonge. What the results showed? All students did it very well and all of them finished their internship at Jongia Mixing Technology with high results! In addition to making the perfect delicious chocolate milk, all the students had a guided tour inside Jongia Mixing Technology. The tour of Jongia made it possible for the students to get a good idea of the process behind mixers and agitators.
The student's experience is the most important thing, and that is why we like to see that the students had a great time. By the drawings and messages we received, we could tell that the students enjoyed the internship at Jongia Mixing Technology. The students expressed that they really enjoyed making chocolate milk. We were also enjoying to share our work activities with these students!
Would you also like to visit Jongia Mixing Technology? Please contact us via info@jongia.com.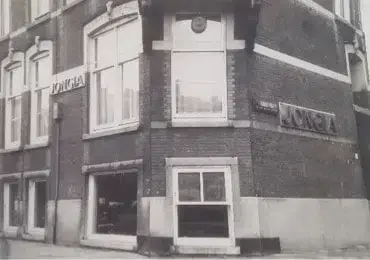 Our History
From the moment Jongia was founded in 1937 we have been evolving structurally over the years. Learn more about our company's history with the summary of most important moments highlighted in a timeline.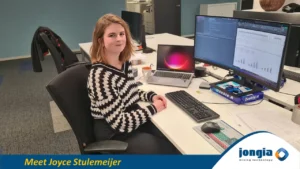 Joyce, a young and ambitious member of the Jongia Mixing Technology team, started her journey with the company at the age of 22. She initially joined as an intern in March and, after successfully completing her studies, she officially became
Read More »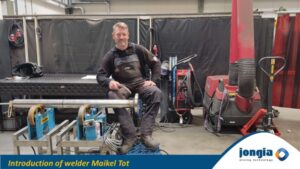 This week, we would like to showcase Maikel Tot, 57 years old. Maikel has been working at Jongia Mixing Technology as a welder since 2015. We would like to share his story with you.
Read More »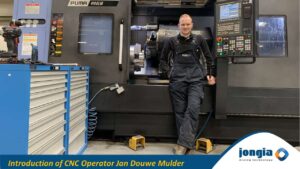 We are proud to introduce our professionals to you. This time, the honors go to Jan Douwe Mulder, 21 year. Even though he is young of age, he has been working at Jongia Mixing Technology for almost 5 years. Nowadays he works for Jongia as a CNC operator. We gladly would like to introduce Jan Douwe to you!
Read More »