We are proud to introduce our professionals to you.  This time, the honors go to Matijs
van

der Bij, 32 years old. He has been employed since November 2022 at Jongia Mixing Technology a Process Engineer. This makes it even more interesting to introduce Matijs.
Connection between theoretical knowledge and practical application
Not too long ago, Matijs finalized his education and started working. He finished the HBO study of Chemical Engineering. "After my studies I worked with waste treatment streams (recovering substances and reducing waste stream costs), sensor technology and at the quality department for a food factory, before I joined Jongia. In my work field, I have always been looking for a connection between theoretical knowledge and practical application. This enables my work to be more interesting and more challenging."
At the prime of his career
Before Matijs started his work and was allowed to consider a career in the "agitator industry" , Matijs thought that most things in the agitator industry had already been discovered. Agitators have been around for a long time, many companies need an optimal process and always aim to have the best agitator." After his introduction at Jongia, Matijs found out that there are so many mixing theories and mechanical issues to overcome, which has changed his opinion.; "there is still a lot to discover", he says.
"It takes a lot to handle a request to quotation/order process. It all starts with variety in tank sizes and customer's actual process application. This requires a wide range of processes knowledge. Because of this, the Mixing element selection(s), quantity of mixing elements, size and complete lay-out are all of importance and have an impact on the design. Above this the mechanical aspects, determine the execution of the Agitator arrangement in the end. There are many types of applications where an agitator is required. This means that a new application can also result in a designated design. Because of this, no single case is the same and that is what makes the job so interesting".
Looking into the future, Matijs is optimistic: "Because I have just recently started at Jongia, the many aspects that involve selecting an agitator, I will certainly need time to develop my competences. However with the knowledge of the opportunity which is given in this company, I look forward to growing in this role."
"With all developments within the company and the many aspects that require my attention, I am very happy that I receive many support from my colleague Process Engineers, who have such a long experience in the company. This will bring my experience much further. I can learn so much from this working environment, gain the necessary experience and apply all the information that is necessary in a proper manner".
A pure winner's mentality
As well as his passion for his activities at Jongia, Matijs is also very passionate about playing a (board) game. Matijs is quite adamant about this: "The many hours I spend at the table with a (board) game can hardly be calculated. I would like to play more boardgames as long as possible. Matijs' other hobby is football. He has put many yards on the football field and, as with board games, he also likes to be the winner during football matches. The drive to win is always there for Matijs! He also likes to prepare a tasty meal and says: "Cooking is actually like chemistry and preparing a piece of meat at the right temperature is irresistible". So you see that the kitchen at home has some overlaps with the workplace .
Knowledge is really useful
Matijs is very pleased with the working atmosphere inside Jongia. He felt completely settled within a short period of time. The other colleagues at Jongia are very pleasant to work with. It is a pleasant and very varied group to collaborate with, some of them working at Jongia for a long time and having built up a lot of knowledge over the years. It allows me to share and transfer this knowledge with other professionals as well!"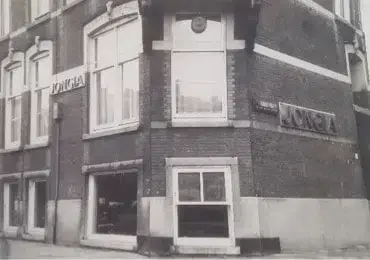 Our History
From the moment Jongia was founded in 1937 we have been evolving structurally over the years. Learn more about our company's history with the summary of most important moments highlighted in a timeline.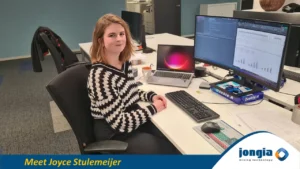 Joyce, a young and ambitious member of the Jongia Mixing Technology team, started her journey with the company at the age of 22. She initially joined as an intern in March and, after successfully completing her studies, she officially became
Read More »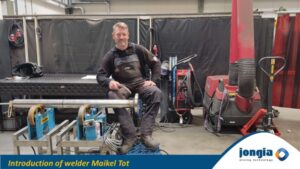 This week, we would like to showcase Maikel Tot, 57 years old. Maikel has been working at Jongia Mixing Technology as a welder since 2015. We would like to share his story with you.
Read More »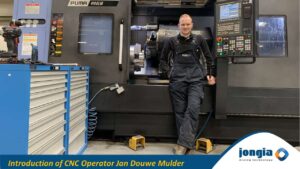 We are proud to introduce our professionals to you. This time, the honors go to Jan Douwe Mulder, 21 year. Even though he is young of age, he has been working at Jongia Mixing Technology for almost 5 years. Nowadays he works for Jongia as a CNC operator. We gladly would like to introduce Jan Douwe to you!
Read More »
Challenge us to improve your process