We are proud to introduce our professionals to you. This time, the honors go to Jan Douwe Mulder, 21 year. Even though he is young of age, he has been working at Jongia Mixing Technology for almost 5 years. Nowadays he works for Jongia as a CNC operator. We gladly would like to introduce Jan Douwe to you!
Learning on the job
When Jan Douwe looks back on his high school time, one of the main things which stood out was that he excelled at mostly practical work. "I was not a student who excelled at studying." Jan Douwe knew at a younger age that he wanted to do something technical . He rather put the textbooks aside, spending his time doing other things instead. Jan Douwe has always had a passion for technical subjects and is fascinated by motorcycles. He enjoys tinkering with mopeds and scooters. "Also, I always really enjoy going to oldtimer fairs together with my dad".
Work and learning opportunities
After finishing highschool, Jan Douwe decided to become a construction Engineer. Within this education the technical interests of Jan Douwe were covered. Because the work field is very diverse, he asked himself which field of engineering was the best choice. "I started my internship at Jongia Mixing Technology when I was 17 years old. Here I mainly learned about welding, assembling and working with machinery. I realized that the machines would be my main interest. This is the reason I joined the study All-round Operaror. During that program, I learned to work with modern production technology and built up the knowledge of materials in relation to machining. At Jongia Mixing Technology I got the opportunity to work as a CNC Operator and still I enjoy doing my work."
Jan Douwe is constantly working to perform his job in the most efficient way he can. "I receive a technical drawing and raw material. With this, I need to produce something that matches the description. When I can produce the sizes exactly according to the drawing, it gives me a good feeling. The result is then exactly identical as it is shown on the drawing."
One is never too young to learn
Over the years Jan Douwe has been working at Jongia, there have been many changes. There has been a complete renovation of the site works and Jongia Mixing Technology became better equipped with many new areas and innovations. "When I entered the company as a 17-year-old student, the workplace had a different look. I also realize that Jongia is growing in the areas of technology, innovation and optimization. A good example is the expansion of the machinery. I am very pleased with these developments as well". While Jongia is making progress, Jan Douwe wants to keep developing himself at the same time. "There is an opportunity to continue learning so many things. I am a young person and still have many years to go. Developments through courses or training are important to me. There are also many good colleagues around me who can help a lot and that makes the workplace at Jongia very pleasant!"
Good interaction with colleagues
"I have a good relationship with everyone and the communication on the workplace is very nice. Everyone is very friendly with each other and therefore it feels like a trusted area." There is also time for some jokes on the workfloor. "We do have fun with each other in the workplace too. We laugh a lot and of course that's important, because it also creates a good connection with each other. For example, I meet my colleagues after work every now and then to have a great time, so that shows we have a good connection!
Leisure activities
One of the things that Jan Douwe enjoys is riding his motorcycle and "touring around regularly in the region. He is the owner of a Honda CB 650 F type motorcycle. There is no need to make a route. "On a clear afternoon I take my motorcycle out of the garage and then I tour through the Frysian province. For me it gives an enormous amount of comfort and freedom, that feeling is indescribable."
When the weather is good, Jan Douwe also likes to go out on the water. "Together with my friends , I like to sail throughout the Frysian waters. Frysland has many beautiful places and really enjoyable. I also enjoy the Skûtsjesilen, traditional sailing event. It is a wonderful water event within the Frysian province. The atmosphere around the event is great and this is always a good opportunity for us to get out there!"
Furthermore, Jan Douwe likes to dedicate himself to the activities of his hometown Wergea. Together with others he dedicates himself to activities that emerge during the annual event which is organized in his hometown. "Regularly we meet to come up with ideas to make the event better every year.''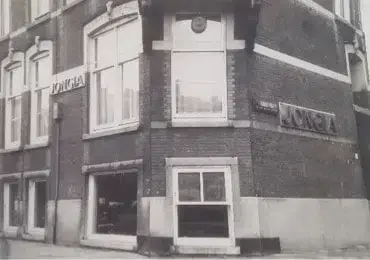 Our History
From the moment Jongia was founded in 1937 we have been evolving structurally over the years. Learn more about our company's history with the summary of most important moments highlighted in a timeline.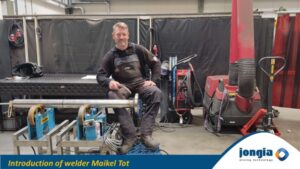 This week, we would like to showcase Maikel Tot, 57 years old. Maikel has been working at Jongia Mixing Technology as a welder since 2015. We would like to share his story with you.
Read More »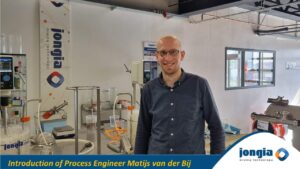 We are proud to introduce our professionals to you.  This time, the honors go to Matijs van der Bij, 32 years old. He has been employed since November 2022 at Jongia Mixing Technology a Process Engineer. This makes it even more
Read More »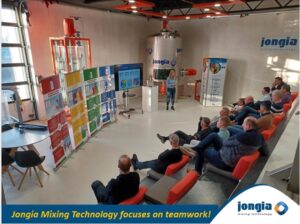 Besides all the activities within Jongia Mixing Technology, it is important that the employees enjoy going to work. Partly by using the talents of the employees, this should be made possible. Aukje Castelein on behalf of Energie|Fabriek came to tell a few things about this
Read More »
Challenge us to improve your process