Every month we introduce you to one of the professionals who are a part of Jongia Mixing Technology. This week we want to introduce you to Sijko van der Veen. Sijko is a Sales Engineer and guides the customer through the process from request to solution.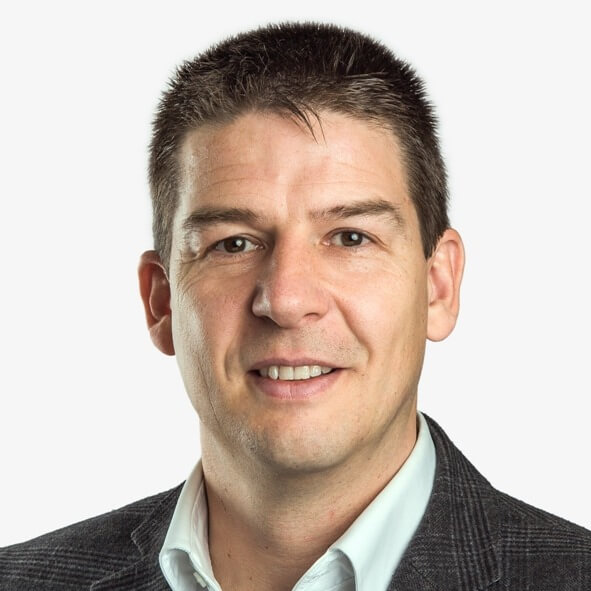 Right at home
For over 23 years, Sijko has been working at Jongia Mixing Technology. Sijko has a chemical/technological background and an interest in everything related to production processes. "My broad background and interests come in handy everyday within my position as Sales Engineer. This is because I am dealing with different processes. For example, I deal with manure processing but also with the pharmaceutical industry", thus Sijko. Through a regular application process, Sijko came to work for Jongia Mixing Technology: "Before my position as Sales Engineer at Jongia Mixing Technology, I worked in Eindhoven as a Sales Representative. I had to travel a lot! Although I learned a lot from working as a sales representative, I knew that I wanted to work at a place where travelling wasn't such a big part of the job. When I came across the vacancy for 'Sales Representative in process technology, interim department', I was immediately sold. The love for the company itself, came naturally".
Team spirit
One thing that Sijko appreciates in his job is the variety: "We supply products to various industries and know about a lot of different processes. Because of this, we are able to think along with the customer about the structure of the process and how we can optimize it". Sijko is a team player and is happy with the team he is in: "I have great colleagues. The interaction between the departments within Jongia Mixing Technology is a great experience". Most of my colleagues are mechanically inclined. They, for example, make drawings and work on stainless steel. We, as a part of the Sales department, are responsible for selling those products to the customer".
Ongoing development
Sijko is very clear about his own development: "Take the Jet mixer for example, I find that adding this mixing element to our collection is a great detour for the company. It really is an addition and a development. At the end, it is the customer that gives us the insights to improve all of our processes. We follow up accordingly and share our process solutions in return. I love this process-oriented approach and this is what I want to continue doing. Within Jongia Mixing Technology there is room to do this and that, for me, makes the company such a good employer". However, the Jet mixer isn't the only specialism Sijko has. He also knows (almost) everything about the process in which starch is used. In other words, Sijko is a very versatile process specialist!
There's also room for leisure
Besides enjoying an exciting cycle race on TV, Sijko makes good use of his spare time. Sijko has been volunteering for the fire department for over 20 years. "When I am not at work, my family and volunteering for the fire department are at the top of my list. Every four weeks, I am on call for a week. Next to that, we train and play sports together every week." Sijko's work as a fireman has been beneficial to his work for Jongia Mixing Technology as well. In addition to his job as Sales Engineer, Sijko has also been one of the company's first aid officers for years.
Want to know more about Jongia Mixing Technology and meet Sijko and/or his colleagues? Please feel free to contact us at +31 (0)58 21 39 715 or at info@jongia.com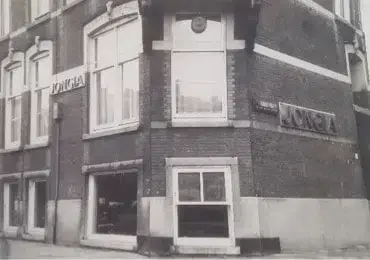 Our History
From the moment Jongia was founded in 1937 we have been evolving structurally over the years. Learn more about our company's history with the summary of most important moments highlighted in a timeline.
Sijko van der Veen explaining the jet mixer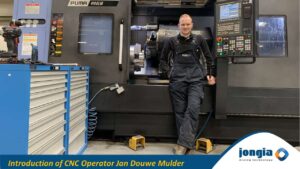 We are proud to introduce our professionals to you. This time, the honors go to Jan Douwe Mulder, 21 year. Even though he is young of age, he has been working at Jongia Mixing Technology for almost 5 years. Nowadays he works for Jongia as a CNC operator. We gladly would like to introduce Jan Douwe to you!
Read More »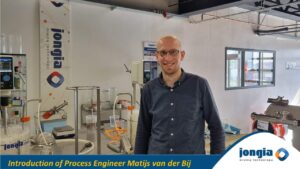 We are proud to introduce our professionals to you.  This time, the honors go to Matijs van der Bij, 32 years old. He has been employed since November 2022 at Jongia Mixing Technology a Process Engineer. This makes it even more
Read More »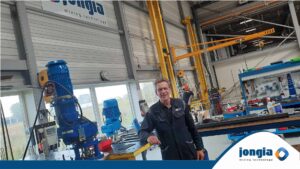 Behind the company name Jongia Mixing Technology is a large number of professionals. This week we introduce one of those professionals to you, which is Bart Bosma, 62 years of age. Bart has been working at Jongia Mixing Technology for
Read More »
Challenge us to improve your process