We are proud to introduce our professionals to you. This week, we would like to showcase Maikel Tot, 57 years old. Maikel has been working at Jongia Mixing Technology as a welder since 2015. We would like to share his story with you.
A career full of international experiences
Maikel grew up on the beautiful island of Terschelling. After completing secondary school, he chose to attend the maritime school for marine engineering in Harlingen. "I quickly realized that I had a knack for welding, so I started working as a welder in the shipbuilding industry. I began in Harlingen and then worked for several companies, including different shipbuilding companies," he says. Later on, Maikel started working for a company in Zaandam that specialized in constructing aluminum and stainless steel tanks.
"I primarily worked on aluminum tanks and occasionally worked with stainless steel tanks. For my work, I spent approximately 8 to 9 months abroad each year. I've worked in around 65 countries, so I've been able to see a lot of the world. It has been a wonderful experience. After a few years, I started working as a self-employed contractor for the same company. I enjoyed my work during that time, but I felt the desire to take a new step, and that's when I came into contact with Jongia."
An upward journey as a welder at Jongia Mixing Technology
With a wealth of experience and expertise in his repertoire, Maikel confidently ventures into a new professional horizon. After years of hard work and valuable work experience, he now brings his extensive knowledge and skills to his new employer, Jongia. 
"Jongia was looking for a welder, and the company appealed to me as well. I already had a lot of experience in tank construction and had performed various welding processes. So, everything fell into place. I joined a warm team, and I also appreciate that everyone at Jongia is capable of being independent. 
I find that I can utilize my strengths well at Jongia. Before joining Jongia, I had worked for multiple companies, but I never had the intention of staying longer. However, with Jongia, it's different. This is mainly because there is a tremendous amount of variety in the work we do at Jongia, and I find that very appealing."
An adventurous spirit
In a world full of possibilities and boundless adventures, Maikel has found his own path. His career has taken him to distant lands, but his adventurous spirit extends beyond the work environment. In his free time, Maikel enjoys taking out his road bike or mountain bike, allowing himself to be carried away on winding trails and challenging mountain passes. The thrill of speed and the connection with nature give him a sense of freedom. 
"I enjoy going with my mountain bike to Appelscha, and I also frequently participate in organized cycling tours in Drenthe. I'm fortunate to be able to do this together with my girlfriend. We share a passion for road biking and mountain biking. We also enjoy camping. We have been to many places, but Scandinavia remains one of the most beautiful locations. You have the tranquility, the space, and you're immersed in the outdoors. There are beautiful lakes where we love to go paddleboarding. It's truly fantastic!"
The future
Maikel feels at home at Jongia and has seen much of the world outside of it. "I've been able to achieve many ambitions, and I'm extremely pleased about that." When asked if traveling is the most beautiful thing in Maikel's life, he responds, "No, I'm also a proud father of two daughters, and fatherhood is a lifelong source of pride for me."
Maikel has found his place at Jongia and feels completely at home. His experience and expertise make him a valuable asset within Jongia. "I'm very pleased that I fit in well here, and I want to continue doing what I'm doing in the coming years. Additionally, Jongia is an employer that doesn't stand still in terms of development. They have made significant progress during my time here, and it's wonderful to see that Jongia looks beyond and continually focuses on improvement." On a personal level, Maikel also looks positively towards the future. "I have plans to move in with my girlfriend, and I'm really looking forward to that!"
Are you interested in more Jongia stories? Please have a look at the Jongia Team page.
If you are interested in a job at Jongia Mixing Technology, click here "Working at Jongia" to view our job openings. ?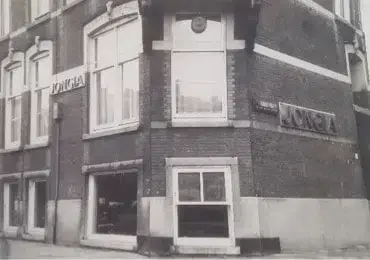 Our History
From the moment Jongia was founded in 1937 we have been evolving structurally over the years. Learn more about our company's history with the summary of most important moments highlighted in a timeline.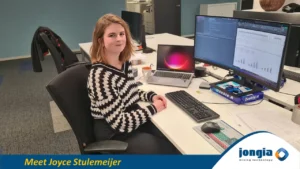 Joyce, a young and ambitious member of the Jongia Mixing Technology team, started her journey with the company at the age of 22. She initially joined as an intern in March and, after successfully completing her studies, she officially became
Read More »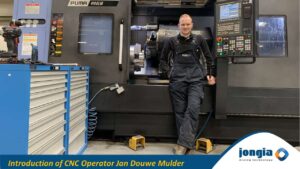 We are proud to introduce our professionals to you. This time, the honors go to Jan Douwe Mulder, 21 year. Even though he is young of age, he has been working at Jongia Mixing Technology for almost 5 years. Nowadays he works for Jongia as a CNC operator. We gladly would like to introduce Jan Douwe to you!
Read More »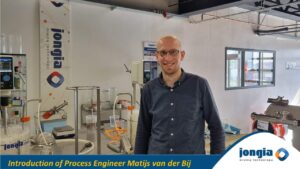 We are proud to introduce our professionals to you.  This time, the honors go to Matijs van der Bij, 32 years old. He has been employed since November 2022 at Jongia Mixing Technology a Process Engineer. This makes it even more
Read More »
Challenge us to improve your process