Jongia Mixing Technology is more than an experienced and innovative supplier of mixing and stirring equipment. Behind the company name lies a large number of professional employees who dedicate themselves daily to customers and colleagues, with a passion for their profession. This time we want to introduce you to Jaap Grijpma, Application Engineer at Jongia Mixing Technology.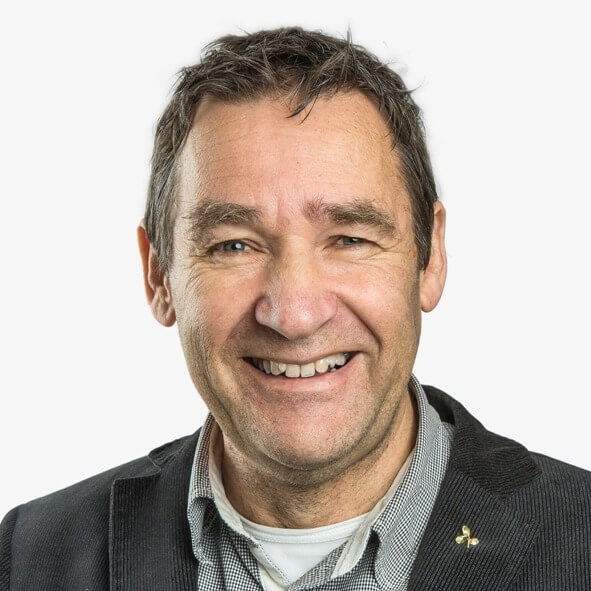 Application Engineer: a jack of all trades
Jaap Grijpma talks about his position as Application Engineer: "The applications that we receive must be assessed. We perform technical process calculations and validate existing systems. Is it new? If so, we often ask for a sample of the products that the customer wants to mix, and have these tested. We then use the test data to compute an agitator which will also be mechanically calculated. This results in a type of agitator and a price, which we incorporate into an proposal for the customer. If the proposal becomes an order, we supervise it internally via the Engineering department, so that production can start. After completion we ship the product to the customer. If our field service is requested, we will install the products at site"
For more than three decades
Jaap started working for Jongia Mixing Technology 31 years ago. From his position in the Technical Services department – foreign branches – at Friesland Campina, he applied for the vacancy of Commercial Assistant. "I was working on a temporary solution for packaging purchasing at Friesland Campina and was looking for a different, challenging position. After reading the vacancy at Jongia, I made the link between the cheese equipment Jongia used to work with (as of 1942) and the field I was working in before I started at Friesland Campina. I was immediately enthusiastic about the job, but also about the company. Now I am no longer a Commercial Assistant, but an Application Engineer''.
Facing challenges together
"The biggest challenge in my job is to create a workable agitator with low energy consumption and reduced process time. A few years ago, for example, we were able to reduce the production time for Schwarzkopf hair gel from eight hours into two. We were able to reach this by applying a stirring concept". Of course Jaap did not do this by himself. He is very pleased with the cooperation and contact with his colleagues from different departments: "At Jongia one has to deal with all disciplines. You are constantly working with each other and need each other to complement one another. A good atmosphere is an important part of it and at Jongia we have that! We also have a lot of individual freedom to organize our own work in the most efficient way. This makes Jongia a great place to work for: Jongia has good faith in us as employees".
Team spirit is important
Corona has thrown a spanner in the works when it comes to company outings and doing fun things with colleagues. Still, Jaap is pleased with the outings that have taken place and that hopefully will take place again: "The staff association organizes an outing every once or twice a year and Jongia organizes a fun activity at the end of each year. This enhances team spirit!"
About the future Jaap is brief, but powerful: "Reaching my final goal in a healthy way, that is my ambition: three more years of work and then enjoying my retirement!"
Would you like to know more about Jongia Mixing Technology and meet Jaap and/or his colleagues? Please feel free to contact us at +31 (0)58 21 39 715 or info@jongia.com.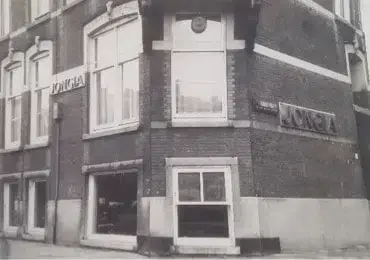 Our History
From the moment Jongia was founded in 1937 we have been evolving structurally over the years. Learn more about our company's history with the summary of most important moments highlighted in a timeline.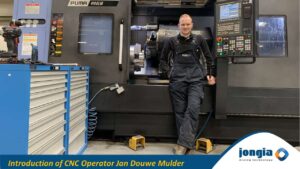 We are proud to introduce our professionals to you. This time, the honors go to Jan Douwe Mulder, 21 year. Even though he is young of age, he has been working at Jongia Mixing Technology for almost 5 years. Nowadays he works for Jongia as a CNC operator. We gladly would like to introduce Jan Douwe to you!
Read More »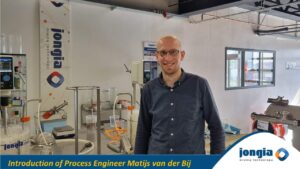 We are proud to introduce our professionals to you.  This time, the honors go to Matijs van der Bij, 32 years old. He has been employed since November 2022 at Jongia Mixing Technology a Process Engineer. This makes it even more
Read More »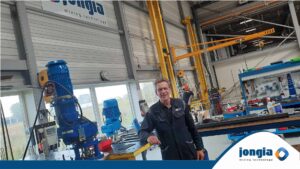 Behind the company name Jongia Mixing Technology is a large number of professionals. This week we introduce one of those professionals to you, which is Bart Bosma, 62 years of age. Bart has been working at Jongia Mixing Technology for
Read More »
Challenge us to improve your process