Jongia Mixing Technology is a part of Heinkel Drying and Separation Group, with a specific specialization in the design, manufacturing and supply of mixers and agitators that are applied in various industries, such as (fine) chemicals, food & beverages, petrochemicals, sustainable energy and pharmaceutical.
As a part of the group companies, Jongia participated in the Virtual Showroom with two unique mixers: the Cup Mixer and the Counter Rotating Mixer, type CRM.
The Cup Mixer is a special stirring element, which is used in the mixing process of viscous products. The Cup Mixer is also suited for sensitive viscous products that are easily damaged.
The Counter Rotating Mixer CRM blends, homogenizes, or emulsifies liquids or powders. It consists of two or more stirring elements that rotate in opposite directions, making it two agitators in one device.
CHECK OUT the virtual room here and immerse yourself in our virtual factory.
To see our products, check the first floor of our virtual factory. Click on our ORANGE machine and immerse yourself in the mixing solutions.
Do you want to challenge us to improve your mixing process? No problem, contact us and we will impress you.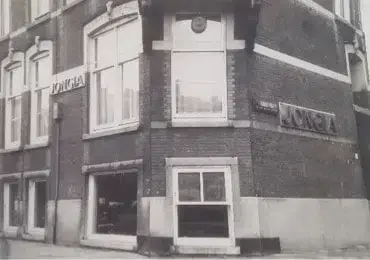 Our History
From the moment Jongia was founded in 1937 we have been evolving structurally over the years. Learn more about our company's history with the summary of most important moments highlighted in a timeline.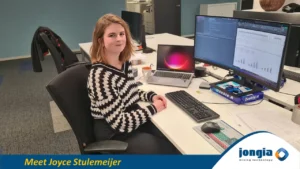 Joyce, a young and ambitious member of the Jongia Mixing Technology team, started her journey with the company at the age of 22. She initially joined as an intern in March and, after successfully completing her studies, she officially became
Read more "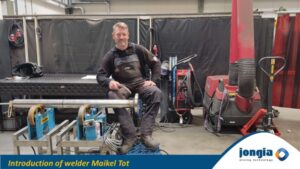 This week, we would like to showcase Maikel Tot, 57 years old. Maikel has been working at Jongia Mixing Technology as a welder since 2015. We would like to share his story with you.
Read more "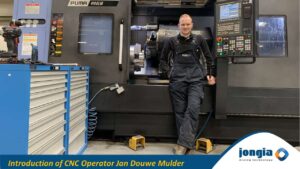 We are proud to introduce our professionals to you. This time, the honors go to Jan Douwe Mulder, 21 year. Even though he is young of age, he has been working at Jongia Mixing Technology for almost 5 years. Nowadays he works for Jongia as a CNC operator. We gladly would like to introduce Jan Douwe to you!
Read more "