Behind the company name Jongia Mixing Technology lies a large number of professionals who dedicate themselves daily to customers and collegues, with a passion for their profession. A few weeks ago, we introduced you to our Application Engineer, Jaap Grijpma. This week we would like to introduce Kevin van Geffen. He is an Area Sales Manager at Jongia Mixing Technology since 2013.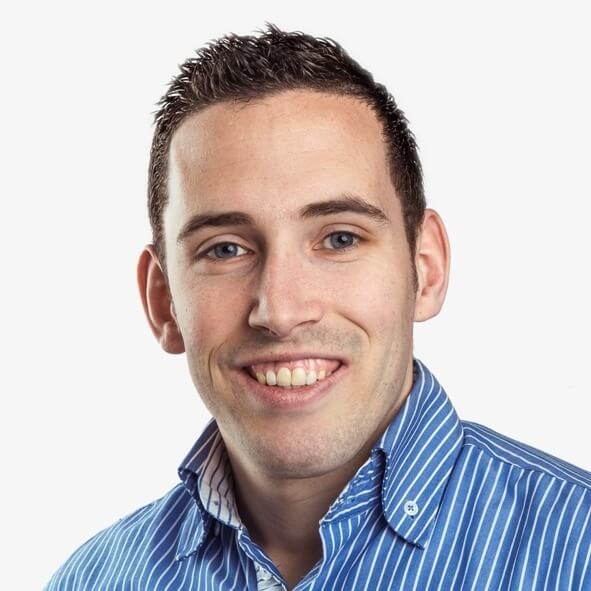 A broad position based on human contact
Kevin is part of the Sales department at Jongia Mixing Technology and is very happy with the diversity and responsibility that comes with his job: "I am responsible for the areas the Netherlands and Belgium. Our customers are end-users, including large dairy companies, but also companies in the chemical and all-round food industry. In addition, we supply agitators to tank builders or companies that supply an entire process installation of which the agitator is then a part. The human aspect fascinates me enormously: the different characters, internal and external, with their own interests, expectations and goals. My main goal is to identify that and then bring the different parties together at the right time. We have to get the customer's needs clear in order to fulfil the customer's expectations correctly. This is complex, but I do it well! I am a people person and this strengthens me in my work, but also in the daily business".
Diversity as a background
The diversity within Jongia Mixing Technology appeals to Kevin enormously: "Agitator technology is a specialism, a combination of technical craftsmanship with scientific process technology. We therefore sell a process solution that results in a specific agitator for the customer within various markets". As an Area Sales Manager, Kevin keeps busy. Despite his young age, 34, he dares to give his opinion and share his expertise: "I have a very broad educational background. I started out in electrical engineering and then studied technical business administration. This is where I mastered several facets: sales, marketing, internal business processes, change management, purchasing, but also statistics and all technical subjects. I am also very inquisitive and am available 24/7 to think along with the customer or about internal issues. Except during the annual festival: 'Carnival'! As someone who is from Brabant, a southern province in the Netherlands, I am not available those four days a year. That is when I am busy celebrating".
Not a stranger in the crowd
"I feel completely at home at Jongia Mixing Technology among the people from Friesland, a northern province in the Netherlands. I feel a connection with everyone and we all have many similarities in mentality and values. I was a bit worried about that at the start, but it feels like coming home here," Kevin says about the atmosphere at Jongia Mixing Technology. In his free time, Kevin is always on the go: "I am a busy man. I love participating in sports, such as: field football, indoor football, cycling (preferably with good weather and not too much wind), but I also enjoy watching it. I am married to Astrid and we have two beautiful children together. You could wake me up for good food and a good glass of specialty beer; after all, I am someone who enjoys the good things in life".
Would you like to know more about Jongia Mixing Technology and meet Kevin and/or his colleagues? Please feel free to contact us at +31 (0)58 21 39 715 or info@jongia.com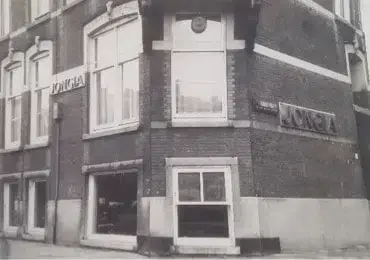 Our History
From the moment Jongia was founded in 1937 we have been evolving structurally over the years. Learn more about our company's history with the summary of most important moments highlighted in a timeline.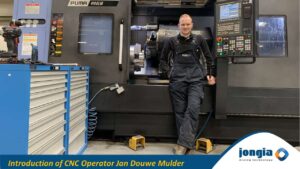 We are proud to introduce our professionals to you. This time, the honors go to Jan Douwe Mulder, 21 year. Even though he is young of age, he has been working at Jongia Mixing Technology for almost 5 years. Nowadays he works for Jongia as a CNC operator. We gladly would like to introduce Jan Douwe to you!
Read More »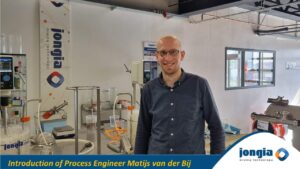 We are proud to introduce our professionals to you.  This time, the honors go to Matijs van der Bij, 32 years old. He has been employed since November 2022 at Jongia Mixing Technology a Process Engineer. This makes it even more
Read More »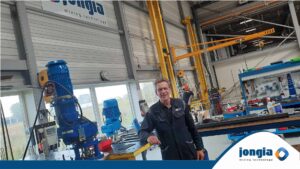 Behind the company name Jongia Mixing Technology is a large number of professionals. This week we introduce one of those professionals to you, which is Bart Bosma, 62 years of age. Bart has been working at Jongia Mixing Technology for
Read More »
Challenge us to improve your process