Jongia Mixing Technology employs a large number of professionals. Once every four weeks, we introduce one of these professionals to you. This week, we would like to introduce Jan Siert Tjeerdsma. His position at Jongia Mixing Technology is Project Manager and he is proud of what he has achieved for himself and for the company.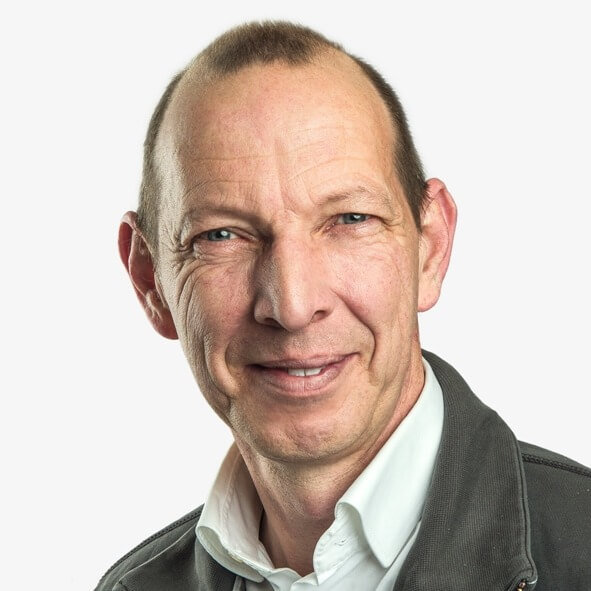 Passion for development
Jan Siert applied for a job at Jongia Mixing Technology in 1995 and was hired as a Project Manager and Sales Representative. He says: "That was a nice challenge, because I got to work on the more complicated issues compared to the standard agitators. In fact, I still do that today, take the Counterflow agitator for example. Before I started my job at Jongia Mixing Technology, I worked at Stork Friesland in Gorredijk which produces spraying and solids towers and evaporators for the dairy industry. Since much of the market was in New Zealand and Australia, I was occasionally away from home for months to commission a piece of equipment that had been sold. It's great to be at the base, but my wife and I chose for me to work closer to home". When Jan Siert started working for Jongia Mixing Technology, most of the drawings and calculations were still done by hand. Jan Siert was an essential part of the company when it came to modernisation. "I once took my own computer from home with me to work, to show what was possible. After that, everyone grew curious, so we gradually switched to fully digital working methods. What I like about Jongia Mixing Technology is that we are still able to become better, smarter and faster. Contributing to that, is my passion".
Knowledge makes for better teamwork
With his many years of experience, Jan Siert is an important part of Jongia Mixing Technology. This is partly due to his own drive to learn and develop further: "Over the years I have come across all kinds of things about, for instance, engines, gearboxes, legislation and regulations. I always try to learn as much as possible so I can expand my knowledge and skills and use them within Jongia Mixing Technology to offer the customer the most favourable solution for his problems or mixing applications". The teamwork within the various departments at Jongia Mixing Technology is of great value to Jan Siert: "While one colleague has more experience in solids dissolving installations and another in the dairy industry, I am more focused on the chemical side of things. I am also trained as a chemical technologist. We reinforce each other with our individual knowledge and experiences and we can always reach out to each other with questions and ideas".
Jack-of-all-trades
Jan Siert is very content with his position at Jongia Mixing Technology: "If there is something wrong, Jongia thinks along, that is the advantage of a small company. We use a personal approach, we know each other. I have no ambitions when it comes to achieving something. I am however pleased that Jongia allows me to initiate work. For example, when I see something passing by that we can work on, we decide together what to do with it. For example, we are currently building a configurator. I was allowed to contribute to this. I learn by doing and by what comes across my path".With a wife, a son, a daughter, and a house with a lot of land, Jan Siert is a busy man in his spare time as well. He also likes to sing and has sung in a gospel choir for many years. However, due to the pandemic this has been put on the back burner. When asked what we could wake him up for at night, he was resolute: "nothing!" But when he gave it a little more thought, he admitted: "Although, you could wake me up for delicious spareribs from the barbecue. Real, sticky spareribs".
Would you like to know more about Jongia Mixing Technology and meet Jan Siert and/or his colleagues? Please contact us at +31 (0) 58 21 39 715 or info@jongia.com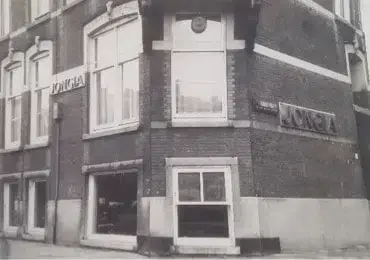 Our History
From the moment Jongia was founded in 1937 we have been evolving structurally over the years. Learn more about our company's history with the summary of most important moments highlighted in a timeline.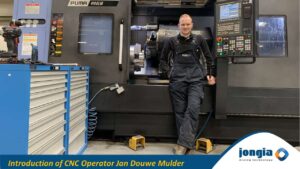 We are proud to introduce our professionals to you. This time, the honors go to Jan Douwe Mulder, 21 year. Even though he is young of age, he has been working at Jongia Mixing Technology for almost 5 years. Nowadays he works for Jongia as a CNC operator. We gladly would like to introduce Jan Douwe to you!
Read More »
Challenge us to improve your process