Jongia Mixing Technology holds a good many professionals to its name. Every four weeks, we will introduce one of those professionals to you. This week we introduce Dieuwke Storm – Postma. She started out in 2003 as Secretary Employee, but since then her function has broadened to include Service department, backoffice and Sales.
Spider in the web amongst agitators
Dieuwke has several roles within Jongia Mixing Technology; her function consists, among other things, of customer contacts at home and abroad, sales of spare parts, administration, invoicing, managing transport at home and abroad and all its related customs formalities. Dieuwke truly is the spider in the web at Jongia Mixing Technology. She was familiarized with working at a technological company in a male-dominated culture from a very young age: "My parents have their own car repair shop, so there was a lot of technical talk at home. I also enjoy working with and among men". After a reorganization within the company in 2008, Dieuwke's function shifted to the Service department. "The combination of all my business duties gives me a great amount of joy at work. Sometimes, I can be occupied all week managing transports and processing purchases, while the next week is filled with handling invoices".
Curiosity creates connecting element
Besides the diverse aspects of her function, Dieuwke is immensely interested in the technical side of Jongia Mixing Technology products. "I'm curious about all of our agitators' capabilities and functions. Whenever I see a show on tv about tanks, agitators, and other such items, I can get completely drawn in and take in everything I see. I developed a true passion for agitators and mixing appliances and all processes related to it. From my very first day in this career, I've asked my colleagues all kinds of questions and studied numerous drawings". Due to the fact Dieuwke is active in multiple departments, she hears and knows about a lot of things. This makes her the connecting and stable element within Jongia Mixing Technology. Add to that her expertise, good memory, and a healthy dose of common sense, and you can see why she is an indispensable part of the company.
Work environment and personal growth
Dieuwke is pleased with the cordial work environment that has been established at Jongia Mixing Technology: "The company thinks along as well as ahead and is open to feedback. I'm given the space to balance my work and private life. My colleagues also play a central part in making this a great place of work: general mood is positive, there's an open no-nonsense culture and you need to celebrate something from time to time". Since everything is running smoothly at the moment, Dieuwke would love to start a course in the near future on 'Export Documents'. And at Jongia Mixing Technology, personal growth is highly valued.
Nomination Frisian Entrepreneur Award 2022 is the cherry on top
The nomination for the Frisian Entrepreneur Award 2022 fills Dieuwke with pride: "We have gone through such great developments. The past five years, Jongia has really risen to a higher level. And to this day, our products keep getting developed further and we're never at a standstill. Next to our innovation center, we now have a new facility with a completely redesigned interior and it even has an office garden. Naturally, the market changes rapidly, developments in the technical industry are always ongoing, and we, as a company, move along with that. It's in moments like these that you feel true pride in the company you work for!"
Always on the move in spare time as well
Dieuwke doesn't sit still in her spare time either. Besides sports, which range from hiking to bootcamp & circuit, she finds great joy in caring for her family. "I love trying out all kinds of new recipes in the kitchen. I can easily occupy myself for hours cooking and baking, and it makes me happy when others enjoy my dishes as well. We also recently got a Jack Russel puppy, which keeps me very busy".
Want to know more about Jongia Mixing Technology and want to get acquainted with Dieuwke and/or her colleagues? Please contact us at +31 (0) 58 21 39 715 or info@jongia.com.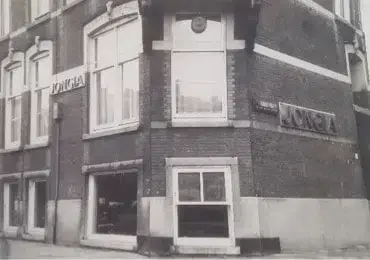 Our History
From the moment Jongia was founded in 1937 we have been evolving structurally over the years. Learn more about our company's history with the summary of most important moments highlighted in a timeline.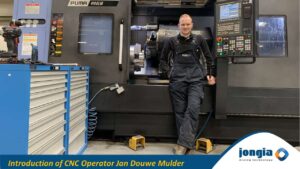 We are proud to introduce our professionals to you. This time, the honors go to Jan Douwe Mulder, 21 year. Even though he is young of age, he has been working at Jongia Mixing Technology for almost 5 years. Nowadays he works for Jongia as a CNC operator. We gladly would like to introduce Jan Douwe to you!
Read More »
Challenge us to improve your process